Allan Gilmour's Diary
A UNIQUE RECORD OF LIFE IN STEERAGE
The collections of the SS Great Britain Trust contain many records of life on board. Mostly they describe the day to day experiences of the First Class passengers. But Allan Gilmour's writings tell a different story. His is the only known diary of a steerage passenger.
Seventeen-year-old Allan Gilmour, his brother Matthew (Jnr) and their father Matthew, sailed on the SS Great Britain's first voyage to Australia in 1852 as steerage (third class) passengers. The Glasgow merchant and his sons left the rest of their family behind. Their ambitious plan was to take advantage of the gold rush and set up a store in Melbourne.
However, their search for riches ended in tragedy when Matthew Snr died of dysentery only a few months after arriving in Australia. With no money, the two sons were forced to return to England. Allan continued his writings and eventually lived in the USA and Australia.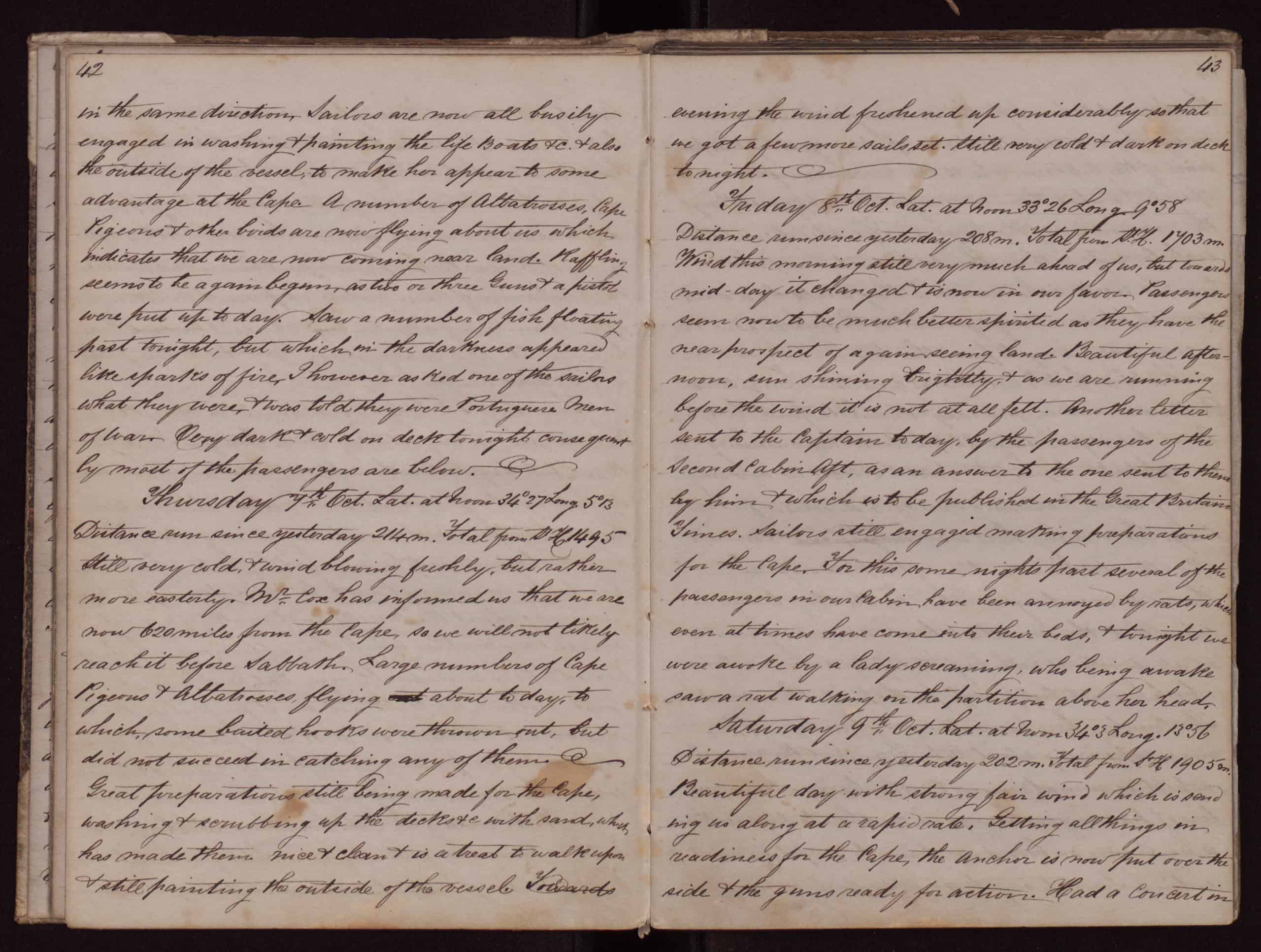 CRAMPED CONDITIONS, GAMBLING AND GOLD
Allan's beautifully written diary gives a snapshot of life on board as he and his brother and father prepare for their life-changing adventure. It also contains his detailed plans of the steerage accommodation. These are the only known records of the layout of the berths and proved invaluable to the curatorial team during the restoration of the ship.
He describes the accommodation:
"Our berths are pretty well ventilated, but very confined and dark. The State Room (as they please to call it) allotted to us holds four persons. The distance between our berths for the purpose of dressing is 2 ft broad and 6 ft long, so confined that only one can dress at once, and even in this small space we have to build part of our luggage."
And he talks about the highs and lows of life on board, with the present day equivalent of thousands of pounds being lost and won in wagers:
"A good deal of money has changed hands today, a number of wagers having been made this morning as to the run… considerable sums have changed hands, one person having lost £500 and another £120 in this way besides innumerable smaller sums… A great number of things are also being raffled, among some of which are a Gold watch,… Rifle, Double Barrelled gun, single barrelled gun, 1 pair pistols, knives etc etc."
During the journey the Gilmour family, along with fellow passengers, prepared for their new life in the gold rush.
"The passengers for the most part are now busily engaged, a number making tents, hammocks, and some handles of picks, poles of tents etc. Raffling is also got up a gain, and a number of things raffled off at exorbitant profits.
… Today Mr Low has joined a party to go to the diggings, which is to be designated the Caledonian Gold Mining Association; they are furnished with a crushing Machine and other implements all of the newest invention."
Allan Gilmour's diary is available to view in the Brunel Institute, find out more.