AUTUMN/WINTER

TIMES

November 2023 – February 2024

Please note that we are CLOSED on Monday except for bank holidays and during school holidays.

Tuesday – Sunday, 10am – 4pm

SPRING/SUMMER

TIMES

March 2023 – October 2023

Please note that we are CLOSED on Monday except for bank holidays and during school holidays.

Tuesday – Sunday, 10am – 5pm
If you would like to visit us during quieter periods, we recommend weekday afternoons during school term time when there tend to be fewer visitors.
Christmas opening times
Extended opening times for our Victorian Christmas Weekends, 2-3 & 9-10 December: 10am-5:30pm
Sat 23 December to Tue 26 December – CLOSED
Wed 27 December to Mon 1 January – OPEN 10am-4pm
Tue 2 January to Mon 8 January – CLOSED
Tue 9 January onwards – OPEN 10am-4pm
We are easy to reach by car, bike, public transport and on foot. Please take extra care if you are driving as nearby road layouts have changed. Always follow road signs and diversions and be aware that a new bus gate is in place on Cumberland Road.
Read on for information about how to find us to make your journey as easy as possible.
By Car
Parking is available at the Maritime Heritage Centre car park (location 2761 on Ringo) next to Brunel's SS Great Britain. It is operated by Bristol City Council. A partial parking refund is available to visitors to Brunel's SS Great Britain ensuring that the maximum you will pay for parking is £5 (for 5 hours)*.
Pay and display machines in the car park only accept cash (and only coins). Please bring up to £12.50 in coins if you wish to pay in cash. Alternatively, you can pay by card using the Ringo website. Register and pay using the Ringo website (rather than the Ringo app) as some credit cards do not work through the app. You will then receive your partial refund at Brunel's SS Great Britain. Please ask for assistance at our Visitor Centre if you are having problems with parking payment and they will do their best to help you.
Bristol's Clean Air Zone is in effect. Some older vehicles (less than 29% of cars) have to pay to come into Bristol. Find out more and check whether your vehicle will be charged. An alternative option to consider is the Long Ashton Park & Ride service which operates on Saturdays and weekdays.
Important: nearby road layouts have recently changed and a new bus gate is in effect on Cumberland Road. Please be alert for bus gate signage as you leave Brunel's SS Great Britain.
*Ringo charges an administration fee on top of the parking tariff.
By Public Transport
The nearest mainline railway station is Bristol Temple Meads, approximately one mile (26 minutes walk) away. The M2 metrobus service runs Monday to Saturday and links Temple Meads and the city centre to Long Ashton Park and Ride. Please alight at stop SS Great Britain on Cumberland Road. We are located five minutes walk from this stop.
By Ferry
The cross-harbour ferry runs between Hanover Quay and Brunel's SS Great Britain daily (Monday to Friday 7:30-18:15; Saturday and Sunday 10:30- 17:30). Please check their website for current information, prices and updates before planning your trip.
By Foot
A pleasant walk beside Bristol's Floating Harbour is a great way to arrive at Brunel's SS Great Britain. We are 26 minutes walk from Bristol Temple Meads station or Broadmead (city centre); 15 minutes walk from Broad Quay and Cascade Steps.
By Cycle
We are located just two minutes from the Festival Way cycle path which runs from Bristol city centre to Nailsea. There are a limited number of cycle racks located in Brunel square.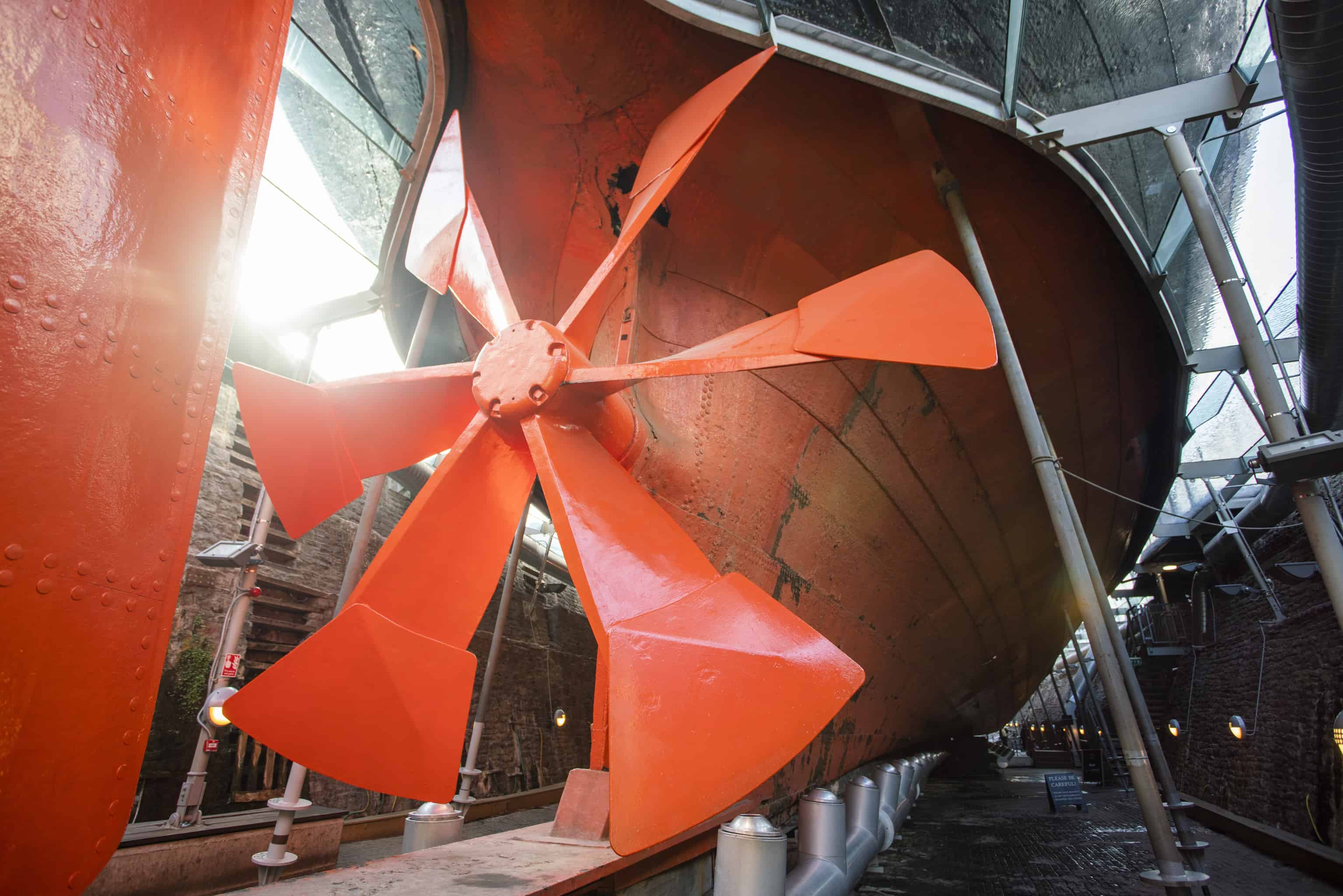 Book your tickets
Book online for the easiest and quickest way to step on board Brunel's SS Great Britain!
BUY TICKETS