THE BRUNEL INSTITUTE
Alongside Brunel's engineering masterpiece, the SS Great Britain, is the Brunel Institute, which houses one of the world's finest maritime collections. The Brunel Institute is a collaborative venture between the SS Great Britain Trust and the University of Bristol.
Visitors to the Brunel Institute can access objects held in the archive vault and use the specialist David MacGregor Library free of charge. This includes the collection of distinguished maritime expert David MacGregor, plus the National Brunel Collection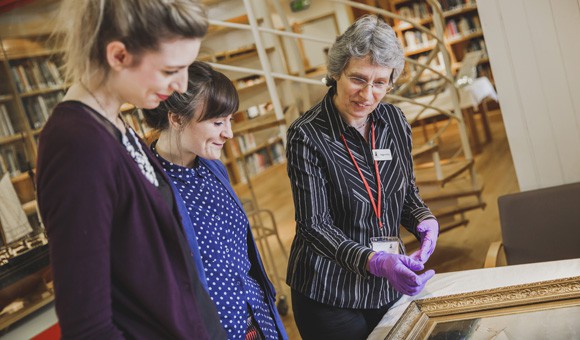 ACCESS TO THE BRUNEL INSTITUTE IS FREE OF CHARGE!
Open over lunchtimes for public access, or researches can organise a visit at any time.
Visit The Brunel Institute
WHAT'S IN THE BRUNEL INSTITUTE?
PLAN YOUR VISIT
Opening times
Sunday – Wednesday – Closed
Thursday & Friday – 10:30am – 4:30pm
Saturday – 10:30am – 4:30 pm (on the first two Saturdays of every month)
See a full list of opening times here:
General Opening Times
HOW TO FIND US
Brunel's SS Great Britain
Great Western Dockyard
Gas Ferry Road
Bristol BS1 6TY
England
United Kingdom
VIEW MAP
BE A PART OF THE BRUNEL INSTITUTE
Contact The Curator
If you would like to view a particular object or section of the collections, please contact our Curator using the form below
LOVE THE BRUNEL INSTITUTE? BUY A PRODUCT FROM OUR STORE INSPIRED BY OUR COLLECTIONS.