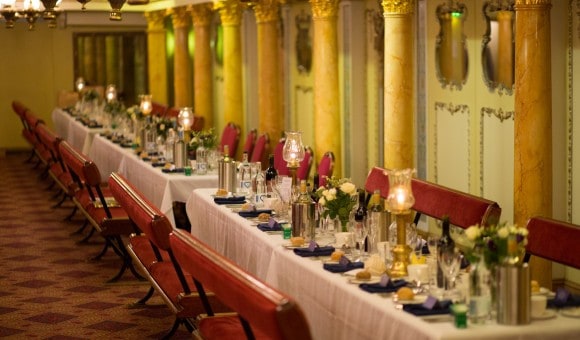 Celebrate on board in first class style. Available for drinks receptions, dinners and celebrations the SS Great Britain offers you the perfect setting for a memorable evening.
Venue Spaces
FIRST CLASS DINING SALOON
First class dinners and after-dinner entertainments are held in the First Class Dining Saloon, once admired by Queen Victoria. Hidden cutting-edge technologies and early Victorian opulence combine to ensure the highest standards in luxury and comfort.
Ideal for up to 160 guests.
WEATHER DECK
Commanding one of the region's most striking views, the Weather Deck is ideal for late spring and summer drinks receptions. Guests can enjoy the historic ship's waterfront location at the heart of Bristol's harbour, surrounded by hills and with views of Bristol Cathedral and Cabot Tower. Swans in flight and hot air balloons are frequent sights.
Ideal for up to 250 guests.
PROMENADE DECK
The Promenade Deck is an elegant space on board ship, with decorative mirrors and sweeping wooden decks. It offers a unique and special venue for pre-dinner drinks and canapes and networking events.
Ideal for 150 guests.
HAYWARD SALOON
This is a versatile and more intimate space within the ship, used for presentations, meetings and dinners, or as a bar and dance area when booked alongside the First Class Dining Saloon.
Ideal for up to 45 guests.
THE SHAKESPEARE ROOM
The opulent Shakespeare Room offers fine dining for up to 12 guests. Host your private evening dinner in Brunel's dining room as it looked in his home of 18 Duke Street in London. Containing commissioned paintings of scenes from Shakespeare's plays, the room was named the 'Shakespeare Room'. In this room he and his wife, Mary, entertained family, friends and influential acquaintances who could help Brunel get his projects off the ground.
BEING BRUNEL
New for 2018, Being Brunel explores the life and legacy of Isambard Kingdom Brunel. It brings together for the first time the world's most significant collection of one of engineering's greatest minds. Spread across two floors The Being Brunel Museum provides an insight into one of the greatest engineers of all time, while offering an open and spacious event venue for evening receptions.
CHRISTMAS PARTY PACKAGES
Have you booked your Christmas party yet? Don't miss out on the last few days available!
We can cater for both small and large groups; with only a few spaces left on our joiner Christmas party on Friday 2 December. Our joiner party is £80pp inc. vat and includes:
Arrival drink
Festive 3 course meal
1/2 bottle of house wine
Disco!
All on board the SS Great Britain – a fantastic way to celebrate Christmas in style.
We also have some spaces left for private parties – please use the form below to enquire about availability
SUMMER PARTY PACKAGES
Set within the stunning Bristol harbourside our summer party packages offer you an idyllic setting in either our Harbourside Kitchen or within the Dockyard. Watch the sun set over the harbour with a Pimms and BBQ and celebrate the summer in style.
Available for numbers of 20 – 60 guests.
Enquire now with our events team on 0117 926 0680 or email events@ssgreatbritain.org