Sustainability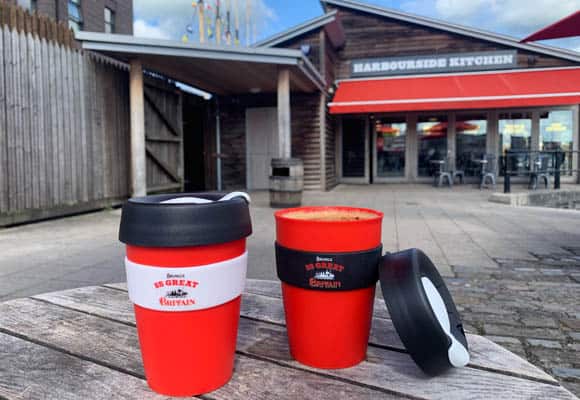 Environmental sustainability
The SS Great Britain Trust is committed to minimising our impact on the environment. Our Climate Emergency declaration acknowledges the climate breakdown and provides us with bold, honest commitments and focus.
For a charity that conserves one of the world's most important historic ships and operates a major visitor attraction, large venue as well as a research and education centre, this is a significant and important commitment.
Declaration of a Climate Emergency
The SS Great Britain Trust declared a Climate Emergency in October 2019. We recognise environmental breakdown, based on scientific evidence, and believe that heritage and cultural organisations must both make a difference directly as well as inspire and advocate for change. As a leading maritime museum which undertakes major ongoing conservation, we pledge to pioneer energy efficiencies and share new best practice globally.
This work is already underway, having recruited a Ship's Conservation Engineer in 2018 who is pivotal to continually optimising the ship's conservation in the most efficient and environmentally responsible way and sharing new best practice so that global maritime museums and curators can implement similar efficiencies. Find out more about our work so far on sustainable conservation.
Our commitment
Achieving and promoting sustainability is central to our mission. We are committed to conducting our business and operations to reflect best environmental practice, to improving environmental performance and to reducing the organisation's impacts on the environment.
The Trust's Sustainability Working Group comprises staff from every area of our organisation. The group has identified five main environmental impact areas: energy consumption, water usage, material waste produced as a result of the day-to-day operations on site, carbon emissions resulting from staff and visitor travel to site and energy consumption and waste resulting from procuring goods. An ongoing action plan addresses and continuously reviews our environmental impact, collecting data to monitor our progress.
Becoming a more sustainable organisation
These are just some examples of positive action to date:
Taking proactive steps to define best sustainability practice and setting ambitious, but realistic, targets for ourselves. Hiring a Ship's Conservation Engineer who is responsible for optimising the conservation of the SS Great Britain in the long term, in the most efficient and environmentally responsible manner.
Reducing the carbon footprint of the SS Great Britain, and the Trust's operations at large, including installing solar panels wherever possible.
Supporting local producers and services wherever possible, with some café produce made on board!
Using plant-based 'Vegware' products, including food containers, disposable cups and cutlery in our cafes.
Providing a designated water refill site for visitors and the sale of glass water bottles instead of plastic.
Promoting the use of 'keep cups' for hot drinks, with them offered for sale in our shop and a staff discount on hot drinks purchased with a reusable, rather than disposable, cup.
Offering staff travel incentives to reduce emissions, including discounted public transport and a cycle to work scheme, with free bike maintenance sessions.
Giving ad-hoc incentives to remind staff to ensure technology, computer monitors, and other electronics are turned off when not being used.
Help us to become more sustainable
As a visitor to Brunel's SS Great Britain, you can help us improve our environmental impact by considering some of these options:
Leave the car at home. Try to cycle, walk or use public transport to reach us where possible.
Use our free water refill points instead of buying plastic bottles elsewhere.
When using facilities, we would be grateful if you would use water wisely and please don't leave taps running.
Use a 'keep cup' for your hot drinks. If you forget your cup, we use compostable 'Vegware' take away cups and have branded reusable cups for sale.
If you have a meal in one of our cafes, try to 'eat in' where possible. If you would prefer to take your food away, we have compostable 'Vegware' containers and utensils.
Take rubbish home. As a charity, we pay for our waste disposal. Any reduction in waste means adirect saving for us, meaning we have more money left for vital conservation work.
Investments
The Trust's Endowment Fund invests for positive social and environmental impact alongside financial returns. The Fund is maintained with ethical safeguards and will not make new investments in, and is seeking to withdraw from, any business which is demonstrated to be negatively involved in: modern slavery; environmental damage and fossil fuels; poor public health outcomes; guns and armaments. The Trust is committed to providing quality employment and development of the tourism economy that supports sustainable local and regional growth.
Finally; the SS Great Britain Trust is aware that there is more to be done to protect the environment, which is why our sustainability group is continually looking at how we can improve and reduce our impact on the environment.
Should you have any questions regarding our achievements so far, please get in touch.