SS Great Britain: 50 Years Back Home in Bristol
50 years ago, the SS Great Britain was saved. The rescue and 8,000-mile homecoming journey from the Falkland Islands to Bristol was the longest salvage tow ever undertaken, and the largest hull salvaged using a submersible pontoon.
When launched in 1843, Brunel's ocean liner was the prototype for every modern ship, combining an iron hull and screw propulsion for the first time. But after 90 years at sea and 84 years in the Falkland Islands, the ship was close to breaking in two when she was rescued in 1970.
Conservation over 50 years has transformed the ship inside and out. Comparing the SS Great Britain today with her condition in 1970 shows a stark, almost unbelievable difference.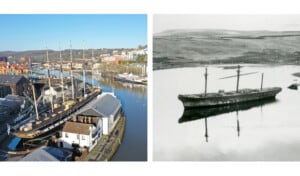 Today, Brunel's great ocean liner is the centrepiece at Brunel's SS Great Britain in Bristol, alongside two museums in her original dockyard. The popular visitor attraction is the most welcoming museum in Europe (European Museum of the Year Awards 2019). It is set to re-open to visitors a day before her 50th anniversary 'back home in Bristol' on 19 July.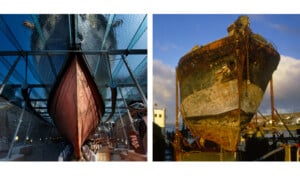 Now conserved below a 'glass sea' with the same humidity as the Arizona desert, the hull is almost unrecognisable from when the SS Great Britain was abandoned in the Falkland Islands.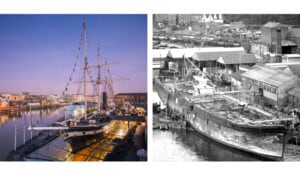 On 19 July 1970 the SS Great Britain was returned to the original dry dock from where she was launched exactly 127 years earlier, on 19 July 1843. She now proudly sits in that same dock in Bristol having become the city's top-rated visitor attraction (TripAdvisor 2019-20).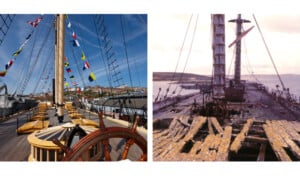 When she was rescued from the Falkland Islands in 1970, the SS Great Britain was in poor shape with deck timbers rotted and splintering. Today, the decks, skylights and masts have been carefully reconstructed, and the original iron hull conserved.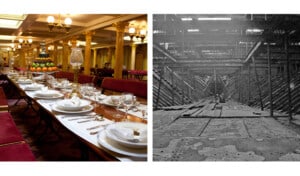 As the world's first luxury ocean liner, the SS Great Britain could carry up to 360 passengers and 130 crew to New York on each voyage. The First Class Dining Saloon has been painstakingly recreated, seen here alongside the interiors in 1970.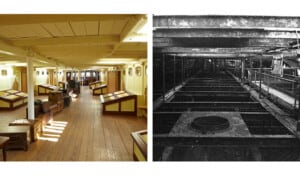 The SS Great Britain was refitted as an emigrant steam clipper in 1852, and an extra deck added in 1857. On voyages to Australia, she carried up to 700 passengers in a mixture of first, second and steerage classes. Passengers included the first All England cricket team, travelling to Australia for a series of matches between the countries.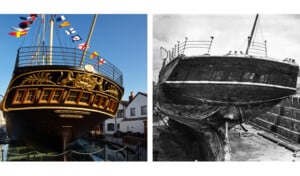 At 98-metres in length and with a 3,400-ton displacement, the SS Great Britain was by far the largest ship in the world when she was launched in 1843 and dwarfed other iron ships then in service.
Photography credits: Mo Malik, Terrence Allen, David Noton, Marion Morrison, Adam Gasson.