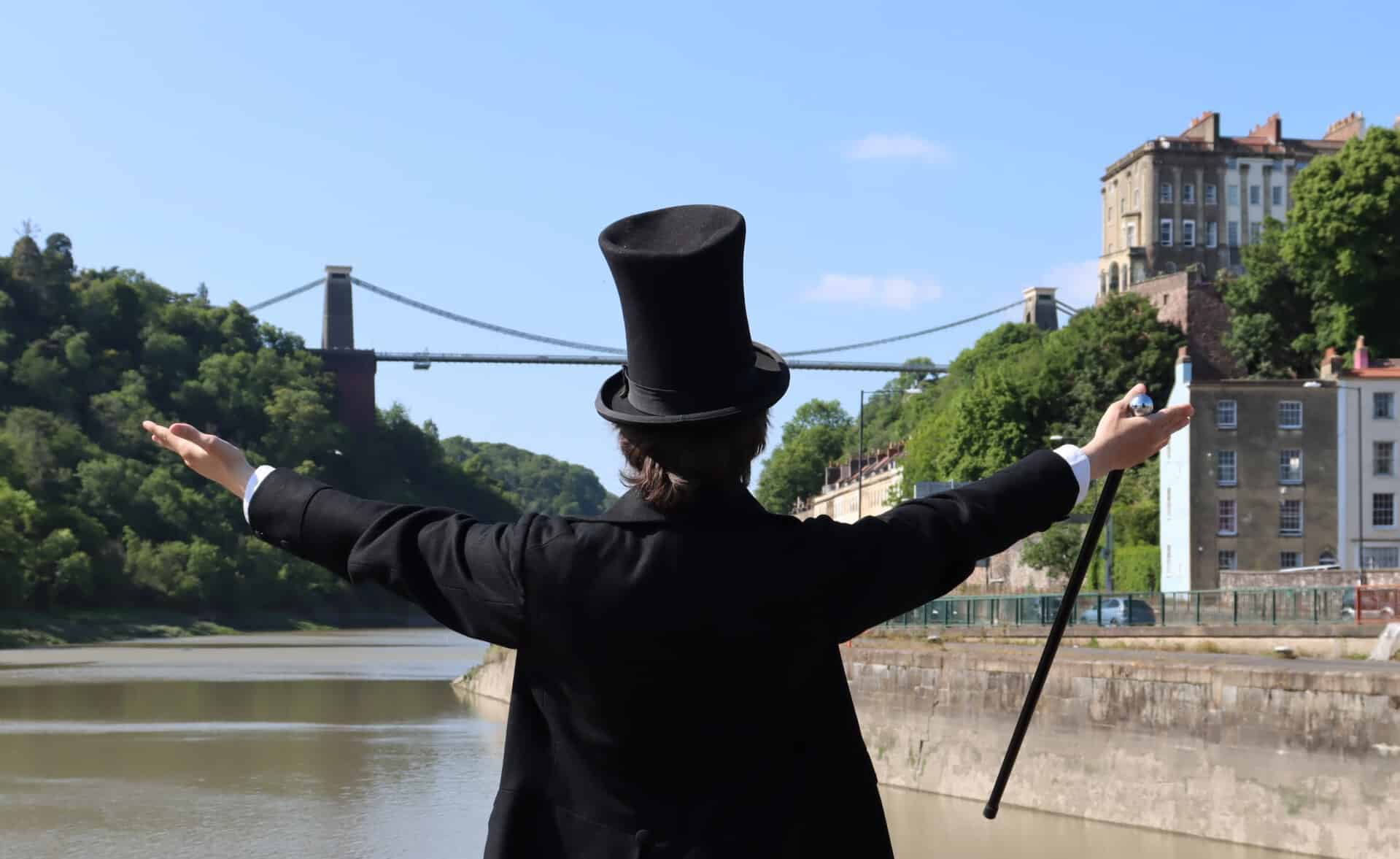 Walking Brunel's Bristol
June 10 2023, June 14 2023, June 24 2023
10.30am
Tour
£12.50
Join Isambard Kingdom Brunel himself on a walking tour of Bristol's historic harbourside and its surroundings. Discover the stories behind some of his greatest works and learn how Brunel's Bristol projects changed not only the city but the whole world!' 
Tours leave Brunel Square at 10.30am and are available on selected dates. Tours cost £12.50 per person and last approximately 2.5 hours, covering just under 4 miles of the Harbourside. This does not include admission to Brunel's SS Great Britain, however you can add an afternoon admission ticket to your purchase.  
Online advance booking only, subject to capacity. 
The current list of dates are : 10 June; 14 June; 24 June; 28 June; 8 July; 12 July; and further dates to be released.
Where is the meeting point?
Tours start and finish from the flagpole in Brunel Square (outside the main entrance to Brunel's SS Great Britain).   
What will I see?
Mr. Brunel will guide you on a circular route broadly following Bristol's floating harbour, discussing the many Bristol projects he was involved with. Talking stops include outside Brunel's SS Great Britain, Queen Square, Cumberland Basin and Underfall Yard.  
Can I bring food and drink?
You are welcome to bring food and drink with you to eat as you walk but there are no scheduled stops for picnicking. The Harbourside Kitchen on Brunel Square provides hot and cold drinks and refreshments to take away or eat in.  
Are there toilet stops along the route?
While there are some publicly accessible toilets along the route we will not be stopping at these as a matter of course.  
How much does 'Walking Brunel's Bristol' cost?
Tours cost £12.50 per person. This does not include admission to Brunel's SS Great Britain. A special afternoon only entry ticket can be added to your purchase online.
What happens if the weather is bad?
We will try to run tours in most types of Great British weather. However, we may choose to cancel if we consider the weather too challenging to deliver the tour or for the tour to be enjoyed fully (heavy and prolonged rain, gale force winds, heavy snow, extreme heat).  
Do I need to book in advance?
Yes, bookings must be made in advance of the tour through our website
Are there any restrictions on who can participate?
There are no age restrictions but a certain amount of fitness is required – you need to be able to walk nearly four miles at an average walking pace. For this reason and the content of the tour young children may struggle. We also ask that children are accompanied by an adult.  
Is the tour suitable for mobility scooters and wheelchair users?
Electric scooters and wheelchairs should experience few issues, however people in self-propelled wheelchairs may struggle due to cobbles and a few steep inclines.  
What happens if I need to leave suddenly part way through the tour?
Please inform one of the staff members on the tour. You will then be responsible for making your own way onwards.  
When do tours run and how long do they last?
Tours run on selected dates only  and leave from the flagpole in Brunel Square at 10.30am. Tours last approximately 2.5 hours. 
What time should I arrive?
Please arrive ten minutes before the tour is scheduled to depart. Mr. Brunel is a stickler for timekeeping so will leave at 10.30am precisely.  
What should I wear and bring with me?
Please wear weather appropriate clothing (warm if cold, waterproof if wet and cool if hot). Sensible footwear such as strong trainers or boots are advised. We suggest you bring sun protection if it is hot along with a bottle of water. Please do only bring what you can carry as we have no left luggage facilities. Please also bring an electronic or paper copy of your booking confirmation.  
Can I bring my dog?
That is fine but please do bear in mind other participants and keep your dog on a lead. The tour is through urban areas with lots of people and traffic. 
What if I haven't received my booking confirmation?
Please check your spam box as the ticket confirmation may have been sent there. If they still haven't been received, please contact us at tickets@ssgreatbritain.org 
Are there any instances in which the tour will be cancelled?
Cancellation by us may occur if: 
Tour numbers make the tour unviable to run. 

 

The weather is unsuitable (heavy and prolonged rain, gale force winds, heavy snow, extreme heat)

 

Mr. Brunel is unwell

 
In these instances, you will be given the choice of rebooking onto a different tour, donating your tour money to the SS Great Britain Trust or taking a refund. We will endeavour to give you 24 hours' notice but this may not always be possible.  
Can I change my booking or change my mind?  
Changes can be made to your booking up to 24 hours in advance of the tour starting. Please email admin@ssgreatbritain.org. However, tickets are not refundable.
EVENTS YOU MIGHT BE INTERESTED IN