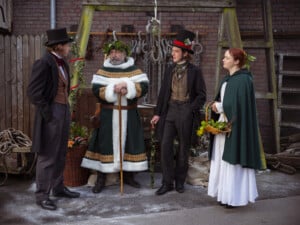 We'll also be inviting a special Father Christmas to site for the very first time, dressed in green robes. This might seem at odds with the typical jolly red suit you've come to know and love, but did you know that for much of the 1800s, Father Christmas was very different from the figure we recognise today? He didn't climb down chimneys, he didn't give gifts – he didn't even wear red!
The origins of Father Christmas in England date back to ancient pre-Christian midwinter festivals where an unnamed pagan figure, robed in a green hooded cloak and wearing a wreath of holly, ivy or mistletoe, would come to lift people's spirits during the bleakest time of year. Although not yet associated with Christmas, this wintry figure would shape the evolving image of Father Christmas for centuries to come.
Over time, the character gradually took on many of the traits we're familiar with, including the appearance of an old man with a long beard and the title of 'Father Christmas'. His long green robes became a furred gown and cap, moving closer towards the outfit we recognise, but they retained their original colour. Even so, whilst his outfit changed, his personality remained very different from the character we know today. At the beginning of the 19th century Christmas was still a relatively minor religious festival, and 25th December was not a public holiday until 1834. Over the following decades, Father Christmas slowly developed a new persona as this new holiday became a time for family celebrations.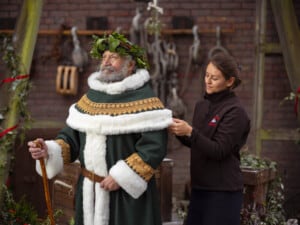 The SS Great Britain launched in 1843, the same year Charles Dickens published A Christmas Carol and when the very first Christmas Cards were sent, designed by Brunel's brother-in-law. When the SS Great Britain was at sea during the 1850s and 1860s, Christmas Trees were becoming popular, and Father Christmas was transforming from a figure associated with adult feasting, drinking and merriment, into a beloved giver of gifts dedicated to children. However, it was not until the late part of the 19th century that the character adopted the red suit that was popular for Santa Claus in America, and so for much of the Victorian period, Father Christmas was often green.
So, when you step aboard the SS Great Britain this December, don't be surprised if you encounter a Father Christmas who is a little bit gruffer and a whole lot greener than expected. Rest assured, he is no imposter. This is the Father Christmas as many Victorians (and Brunel himself!) would have recognised him.
See Old Father Christmas for yourself at our Victorian Christmas Weekends. Watch this space for 2023 dates.