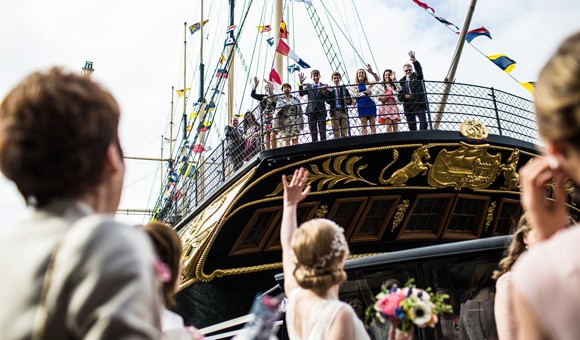 Located in Bristol and launched in 1843, the SS Great Britain is a truly unique venue for your wedding ceremony and reception. Let us help make your dream wedding come true on board one of the world 's great historic ships, and ensure that you have memories to cherish for a lifetime.
Wedding Spaces
On the evening of your special day the SS Great Britain and all her wonderful rooms are open for you and your guests to enjoy – all to yourselves.
Promenade Deck
The Promenade Deck is the picture-perfect location for your wedding ceremony. This intimate space transforms into a romantic aisle lined with honey-toned timber panels and beautiful mirrors. With friends and family gathered around you, vows are exchanged below a glass skylight which floods the space with soft light.
Enjoy a Champagne reception either on the Promenade Deck or head up to the Weather Deck which boasts one of the region's most striking views.
First Class Dining Saloon
A sumptuous dining room for you and your guests to enjoy delicious food, fine wines and Champagne. Here you will be enchanted by the best in early Victorian design, with marble pillars, Rococo mirrors and candle lamps. Every need is catered for by the ship's discreetly hidden technology, which includes flexible air-cooling and a PA system for speeches.
Hayward Saloon
A versatile space, next to the First Class Dining Saloon, the Hayward Saloon has its own bar and dance floor. Whether rounding off the evening with a disco or a band, this space will work for you.
Riggers' Yard
With stunning views across the harbour, Riggers' Yard at Brunel's SS Great Britain offers a new, outdoor rustic style wedding location right by the water's edge. Newly launched, couples can exchange vows outside, under floral arches and festoon lighting, while guests take in the spectacular views, unmatched by any other venue in the city.
Brunel's SS Great Britain is one of the UK's leading attractions and is open throughout the year. We are delighted to be able to offer the following times available for weddings.
Please note this space is only available during the summer.
Wedding Ceremony & Reception:
Due to public access we can offer the following times available for a ceremony:
November to March: Ceremony from 3.30pm to midnight
April to October: Ceremony from 4.30pm to midnight
Wedding Receptions:
Due to public access we can offer the following times available for a reception:
November to March: Arrival from 5pm to midnight
April to October: Arrival from 6pm to midnight