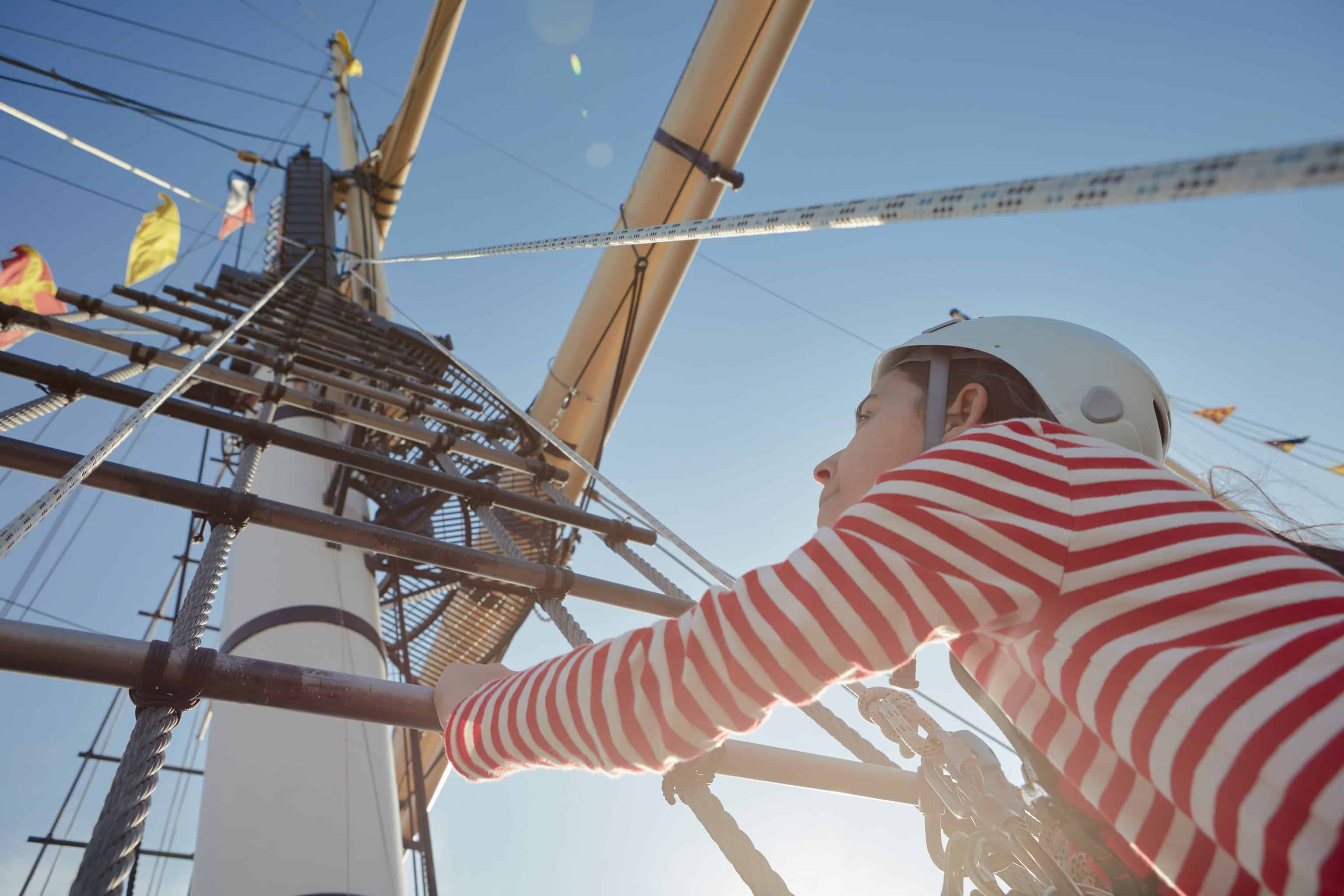 Go Aloft!
Step into the shoes of a Victorian sailor and take the chance to discover what it was really like to be a member of the SS Great Britain's crew by climbing the rigging to over 25 metres above ground level.
If you are brave enough you will then edge out onto the main yard, which will take you nine metres out across the Great Western Dockyard below, unveiling a unique and breathtaking view of Bristol.
Go Aloft! Is open every Saturday & Sunday and during school holidays. Climbs can be added to your ticket purchase online.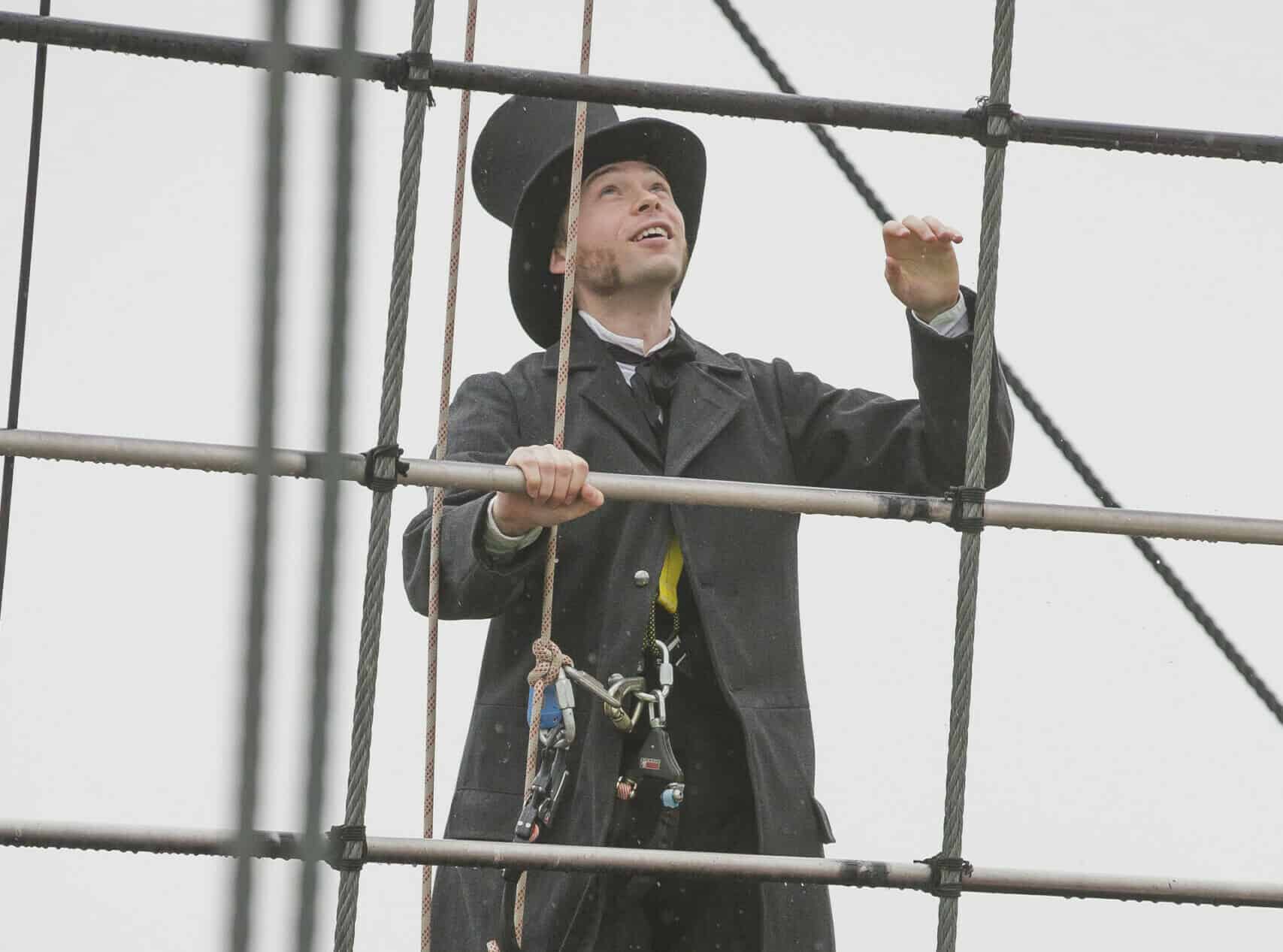 Returning Visitors & Members
Book your timeslot and add in a Go Aloft! climb for your next visit!
Book Here
Who can take part?
Go Aloft! actively supports participation for adults and children of varying abilities but, to help us ensure everyone has a safe and enjoyable time, we do have some restrictions in place.
The Go Aloft! experience is suitable for anyone 10 years or older. There is no upper age limit as long as you are fit and healthy!
No previous climbing experience is required but Go Aloft! does require a moderate level of fitness.
The experience is not suitable for people with certain medical conditions eg pregnancy, heart conditions or spinal injuries. You must not be suffering from any medical condition that may be aggravated or exacerbated by participation in Go Aloft! or that may put your health and safety, or that of others at risk.  
We make every effort to make Go Aloft! accessible to as many people as possible, due to the nature of the experience we are not able to accommodate all requirements. If you are unsure if this experience is suitable, please contact us.
All participants must sign a disclaimer before the climb and children aged 10-17 must have adult consent and supervision
Is there an age limit?
Participants must be at least 10 years old.
Children under 18 years old require the consent of a supervising adult via a disclaimer form to take part in the activity. The supervising adult is responsible for them at all times and must ensure they can physically see them for the duration of the activity.
Please note supervising adults will still need to pay for admission to Brunel's SS Great Britain.  
Are there any height or weight restrictions?
Participants must be at least 1.4metres tall due to the gaps in between the ratlines and the reach when on the yard arm.
Participants must also weigh less than 18 stone / 114 kilos.
How much does the Go Aloft! experience cost?
Prices are £12.50 per participant regardless of age. This is in addition to our general admission prices which must be purchased in order to gain access to the Go Aloft! experience. 
How do I book?
Go Aloft! can be added alongside your purchase of General Admission tickets here. Alternatively, if you already have your ticket and are booking to revisit us, you can add them alongside your timeslot booking here.
 Pick the date and time you wish to climb using the calendar. If a time is unavailable it means that slot is sold out but it's easy to select an alternative date.  
Please note that all our tickets are non-transferable and non-refundable so please familiarise yourself with our terms and conditions before purchasing tickets.  
When should I arrive and how long does the experience last?
Please arrive at Brunel's SS Great Britain at least 15 minutes prior to your scheduled Go Aloft! climb to allow time to reach the Weather deck where a member of our crew will meet you. You'll be given a short safety briefing and learn more about what it was like to actually live and work aboard the SS Great Britain.  
The climb itself will depend on the speed of each individual, but 20-30 minutes is typical.  
Go Aloft! has been generously supported by the National Lottery through the Heritage Lottery Fund and Arts Council England. Brunel's SS Great Britain is also very grateful to the Swire Charities and all of the Trust's members for their generous support of Go Aloft.
USEFUL INFORMATION