The museum began its smelly journey in 2003, when the Trust undertook the first phase of major interpretation work to fit out the cabins and decks on board the ship. Researchers at Brunel's SS Great Britain studied passenger diaries and letters to gain an amazing insight into the smells which people lived with as they journeyed round the world.  
Life on board the world's biggest, most luxurious ship wasn't exactly a bed of roses back in the 1840s and 50s, in fact some of the odours would be enough to send you overboard. With passengers, crew and livestock living and working in the same space for up to 60 days at a time during the voyages to Australia, it would have been a particularly pungent place.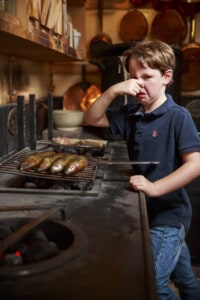 Today, the smell of freshly baked bread and bacon waft through the immersive cabins, as well as the stench of vomit and manure, allowing visitors to experience the delights and horrors of a Victorian voyage. 
Our Interpretation Manager, Natalie Fey, explains why scent is an important part of our museum experience.  
'Smells have always been an integral part of our interpretation, an important part of the immersive museum experience. Our sense of smell is a powerful thing, smelling a particular scent can trigger emotions, memories, and imagination.  
Using specific aromas throughout the ship can create a really visceral reaction in our visitors and has the ability to trigger an emotive and authentic response to questions that we want visitors to think about when they visit us; for example, what would it have smelled like on board a passenger ship during the 19th century, what would it have been like to live on the Great Britain for 60 days, before arriving in Australia?' 
AromaPrime, the company behind our historic smells, was founded in 1973. Its owner Fred Dale made nostalgic 1920s scents for care home residents. The whiffs of horses and carbolic soap sparked long-lost memories in elderly people. Fred's first museum project was for Jorvik Viking Centre in the early 1980s, when they needed cesspit, fire and fish smells for their recreated Viking village.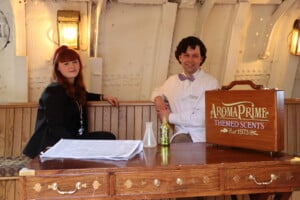 Liam R. Findlay, Scent Consultant at AromaPrime, recently visited Brunel's SS Great Britain to discuss the process and power behind their speciality scents.  
'When replicating a smell, we will refer to existing texts or images describing it, we will sniff real-life artefacts when possible, and we will reference similar smells from the modern day. All this research will lead us to mixing various concoctions until we feel we have got it right. This is the approach we will take whether we are recreating the pong of a Tudor house or replicating the fragrance of Queen Elizabeth' 
The formulas for these speciality scents are top secret, Liam explains:  
'Access to the AromaPrime lab is only possible for those with a golden ticket! Speaking of golden tickets, did you know we provide the smell of the Roald Dahl Museum's chocolate doors? Quite like enigmatic chocolate factories, we keep our formulas pretty top secret, because our pongs are so very unique!' 
Scents have a powerful effect on the brain, a smell can be intrinsically connected to a place and time, evoking memories and emotions. Brunel's SS Great Britain, the 'world's smelliest museum', uses AromaPrime scents as a stimulus for time travel, transporting visitors right into the experience of life on board.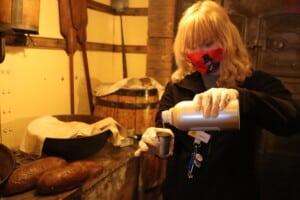 Speaking on the importance of smells throughout history, Liam R. Findlay said:   
'To inhale the same flavours that people did in the past helps us understand what their world was like, and the objects, food and conditions they were surrounded by.  
Smells can even help us understand what emotions people could have felt – because our scent receptors are connected to the part of the brain which processes memories and emotions, for example the smell of the ocean can trigger memories of happiness or fear inside us, along with feelings of freedom or trepidation, just as it may have in people hundreds of years ago. Going through this kind of emotional, atmospheric simulation via smell brings us closer to the people of the past.' 
Brunel's SS Great Britain is now cranking up the scents, enlisting visitors to sample new food-focused aromas to help tell the story of first class travel on the ship's earliest, pioneering voyages across the Atlantic. 
Visitors during the Easter holidays were invited to sample a taster-menu of several smells – all carefully researched from historical sources – including fish, dark chocolate, boiled cabbage, zesty orange and brandy. The odours which left the best impression and fitted the bill for authentic interpretation won a permanent spot on the ship's impeccably dressed dining tables.