Set up six years ago by Sarah Francis and Clare McLoughlin, Travelling Kitchen was born out of a recognition that primary school children were not being taught basic practical cooking skills at school. 
As a team Travelling Kitchen, work to inspire communities to get cooking through a focus on the history and culture of food.  
We sat down with Sarah and Clare to find out about their experience curating the recipes for 'Dishes of Discovery'.
Why did you want to take on 'Dishes of Discovery'? 
Sarah: "Researching the foods that passengers may have tried when docking in the various ports was a unique opportunity to explore the diversity of the passengers and the food cultures they experienced." 
"Food is a brilliant way to engage people in history as it is something we all have experience of. Conversely, learning about the history and culture of a food is an excellent way to encourage children to cook and explore foods they may not have tried before."
Clare: "I used to be a history teacher and have always been interested in finding out about the everyday lives of people in history and I found that people seemed to connect to the past this way." 
"I also enjoy researching historical recipes – seeing the language used, how the recipes are written, what ingredients were popular. So 'Dishes of Discovery' seemed an interesting topic for me as it brings historical food to life and is a great way to engage people." 
What did you enjoy most about collaborating with the SS Great Britain on the recipes? 
Sarah: "As a small social enterprise we welcomed the chance to work with a larger multi-disciplinary team and to be able to draw on the expertise of their Collections and Interpretation team." 
"It's been great working with people with so much enthusiasm, finding out about the life of passengers on board the SS Great Britain from steerage to First Class and exploring different ideas." 
What does food and diet in the Victorian era tell us about life in the 19th century? 
Clare: "Well there was a big difference between First Class and Steerage; for example first class passengers had a lot more meat. The steerage diet was more nutritious than you'd think – for instance they would have been served wholemeal bread rather than the more 'superior' white bread that the First Class passengers was served – white flour cost more to produce so was therefore reserved for First Class." 
Sarah: "Food in this era was starting to show the increase in travel, both to continental Europe and further afield. Since the 17th century and the formation of the East India Company, British people had been travelling to India and other parts of Asia as officials in the company and later the colonial service."
"They wrote about their experiences and produced cookery books or travelogues that contained recipes (often Anglicised adaptations) of the dishes they had eaten. Curried dishes and chutneys often appeared in the dining rooms of the upper and middle classes in Victorian times."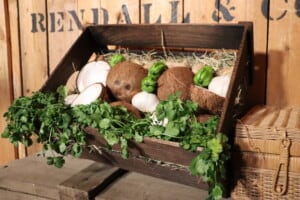 Did any information surprise you when researching traveller accounts for food references of the time? 
Clare: "I was surprised at the variety of local foods that were taken on board and used on the voyage and not just experienced at the port. It seemed to be a highlight of the ship's life to experience local foods when they docked into the ports." 
Sarah: "The amount of meat served in the First Class Dining Room was astonishing given the difficulties that there would have been in storing this. Sometimes as many as seven different meat dishes were served in a single sitting." 
What did passenger accounts tell us about Britain's relationship to different cultures? 
Clare: "The passenger accounts illustrate how with increased travelling people were being exposed to different cultures and this was not just the wealthy classes. Passengers were travelling to pursue work opportunities in other countries.  
"For example in 1852 Edward Towle, a second class passenger was travelling to Australia to find work in sheep-farming or prospecting for gold. The accounts are reflective of their time; some we would now see as an outdated view and some reflect curiosity." 
Sarah: "Food was an entry point into different cultures. The passenger accounts refer a lot to the fresh, new ingredients they experience on alighting at ports such as Jamestown in St Helena and Cape Town, including yams, melons, guavas, plantains and sugar cane and how much they liked them.  
"The ship's provisions were stocked up with local foods and used in the voyage which gave passengers an opportunity for passengers to taste some fruits and vegetables for the first time." 
What did you learn from the experience? 
Sarah: "The experience reinforced for me how we are closer to the past than we may sometimes think and the ability of food to transport you back in time. The research also introduced me to new food writers that I hadn't heard of before." 
"For example the Melon Jam which you can taste on board is adapted from a recipe by Hildagonda J. Duckitt who was born in South Africa in 1839. She wrote up many Cape, Indian, Malay, Dutch and English recipes that reflected the diverse community of the region and the dishes that they were eating in Caoe Town at that time." 
Clare: "I really enjoyed collaborating with the staff at the SS Great Britain, learning about the SS Great Britain, the passengers and finding out more about the local cuisines of the ports in the mid 19th century. It was fascinating to find the recipes, learn about the authors, the history of local dishes and then replicate dishes for a modern audience."