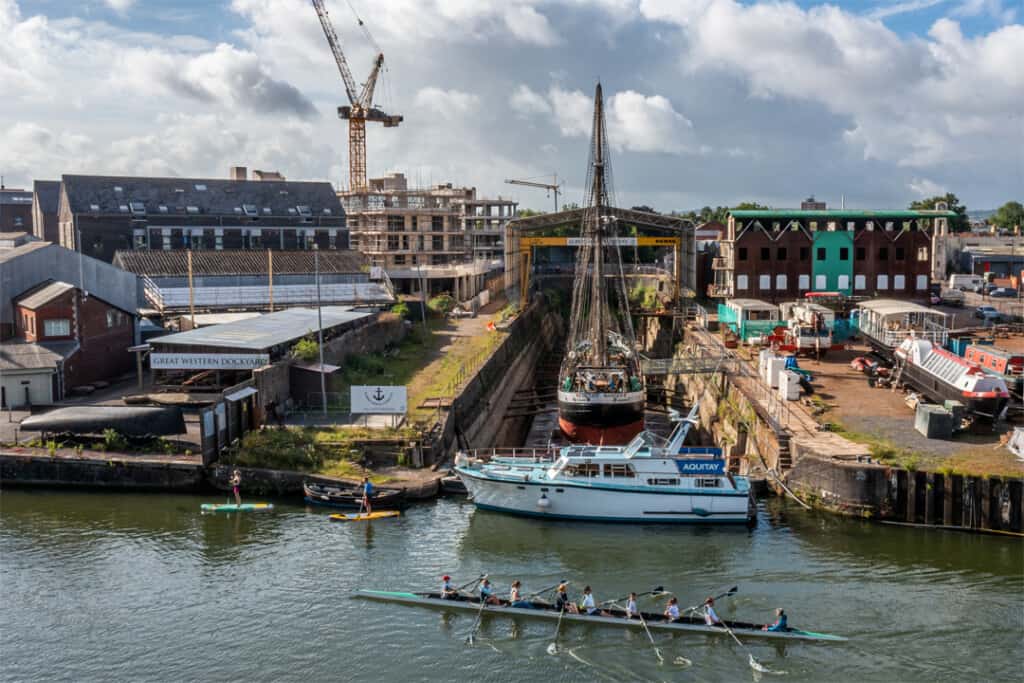 Discovering Albion Dockyard
Bristol stories, global connections
For centuries, Bristol's docks have connected this city to the rest of the world. The Albion Dockyard is one of the last places in Bristol where a ship-building tradition lives on.
Bristol shipwrights built hundreds of ships here, in the Albion Dockyard, to sail down the River Avon to trade in North America, Portugal, Africa, India, China, Australia…
Bristol's past as an international trading port is complicated: we need to go on exploring and discussing all those stories of ships, people and cargoes.
The creativity of Bristol as a ship building, globally connected city is something to carry into the future.
Heritage and purpose
In 1820 the Albion Dockyard was one of many shipyards around the Floating Harbour. Today, it's the last place in Bristol where large vessels like Pelican can undergo essential maintenance and repair.
Pelican was built in France, worked in the Arctic, and refitted in London. She still travels as far as South America on sail training and scientific research voyages.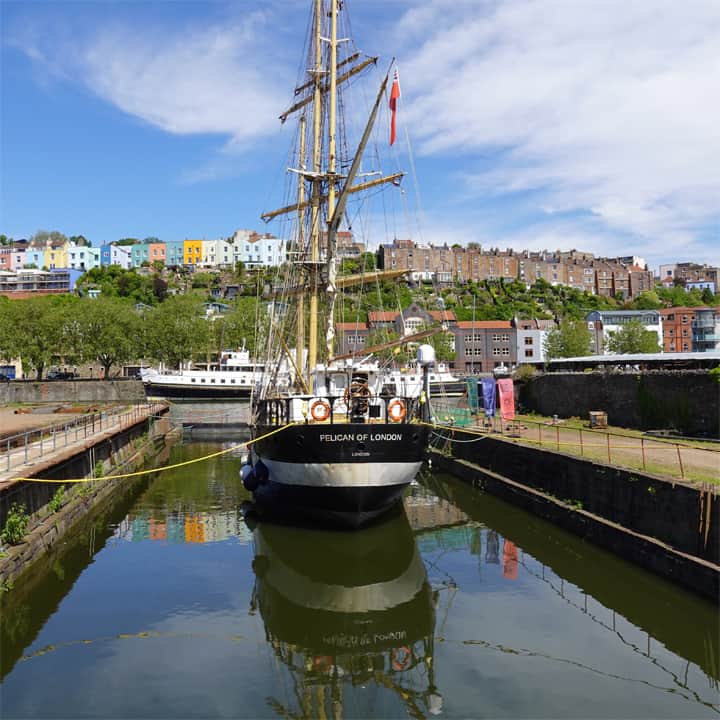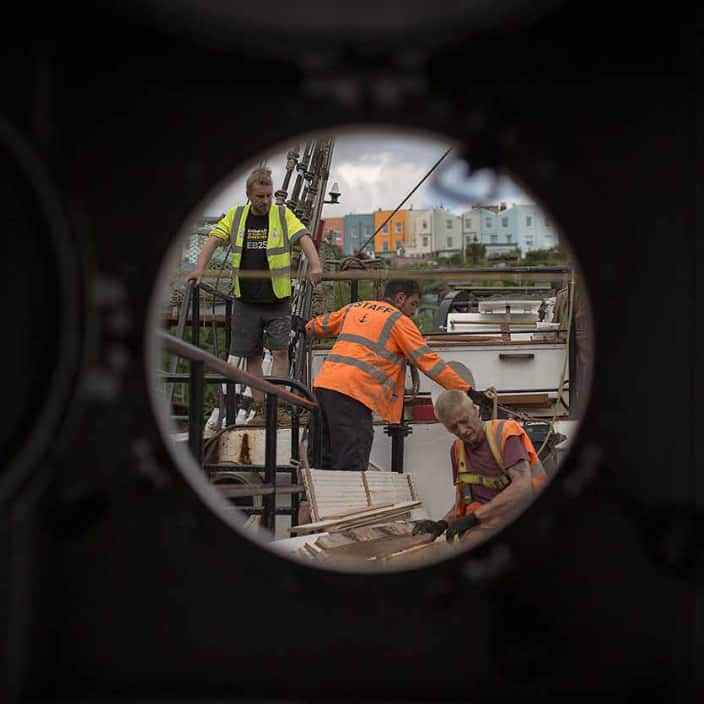 Heritage and purpose
Albion Dockyard was originally much bigger, with all the many facilities (sawmills, tar pits, timber stores) for traditional ship building. Redevelopment has changed the original site, but the massive 180m dry dock – big enough for two ships end to end – remains.
Since 2018 the Albion Dock Company with the SS Great Britain Trust has restored the dry dock, repairing the facilities and providing an essential service to ship-owners. Fridtjof Nansen came into dock for a full refit before continuing her long service as a sail training vessel for Seas Your Future and Sail Training Ireland.
Ships
Thekla is Bristol's unique floating nightclub. In 2019 she needed major repairs to her hull and also a new dance floor. The Albion Dock Company has done its bit to keep Bristol partying.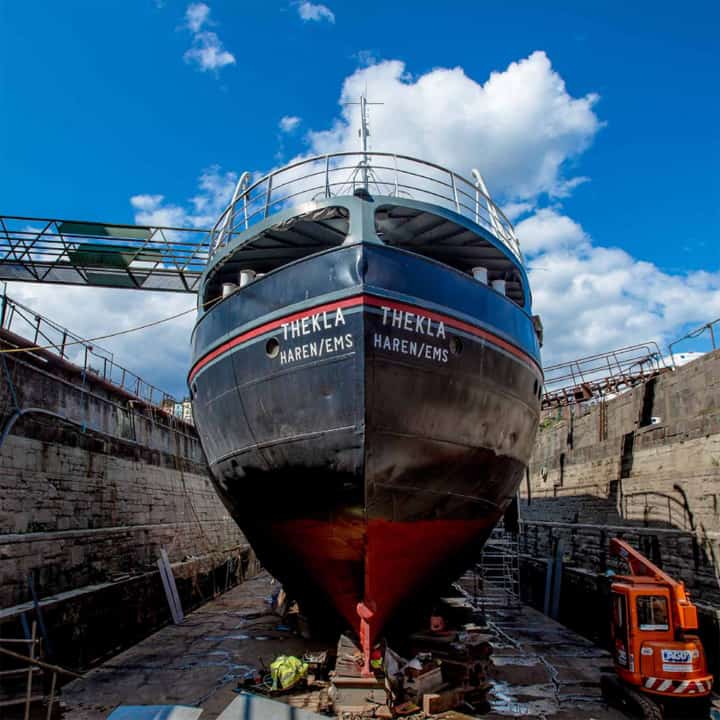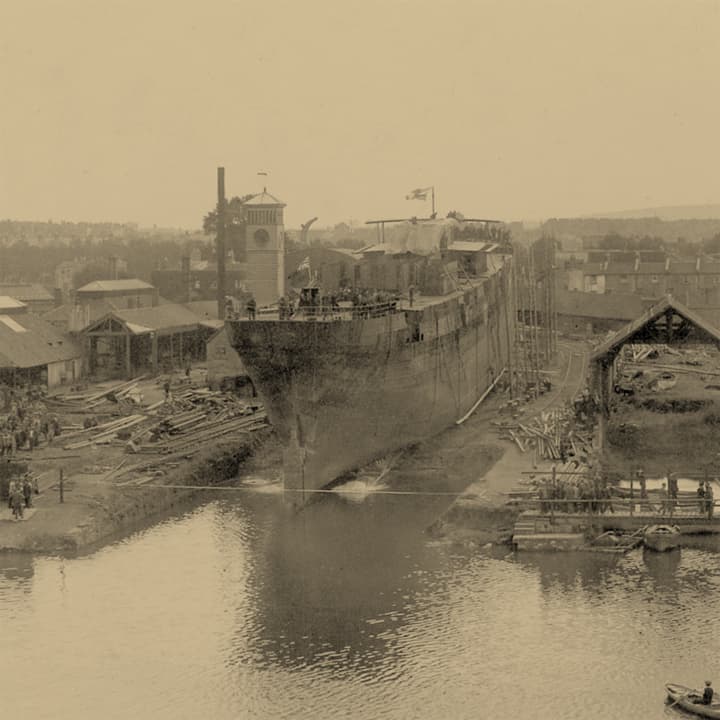 Ships
Favell was the last deep sea sailing ship built in Bristol. She launched in 1895 from the Albion Dockyard, which was then owned by Charles Hill and Sons, and she was named after a great-granddaughter of the company founder. The barque, with her three masts, steel hull and sleek lines, was well designed for carrying grain between Britain and Australia.
This photograph shows the scale of the dockyard and the workforce in 1917.
Image courtesy of Bristol Culture.
Ships
In 1949 Juno launched down one of the slipways which lay just west of the dry dock. This photograph shows a battered, post-war Bristol. Work building warships for the Royal Navy continued at Albion Dockyard throughout the conflict, in spite of heavy bombing.
Image courtesy of Bristol Culture.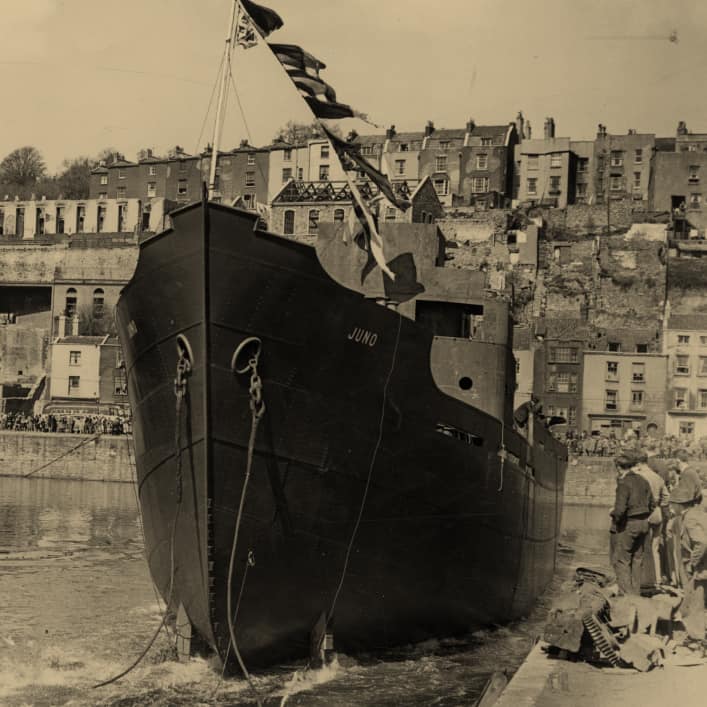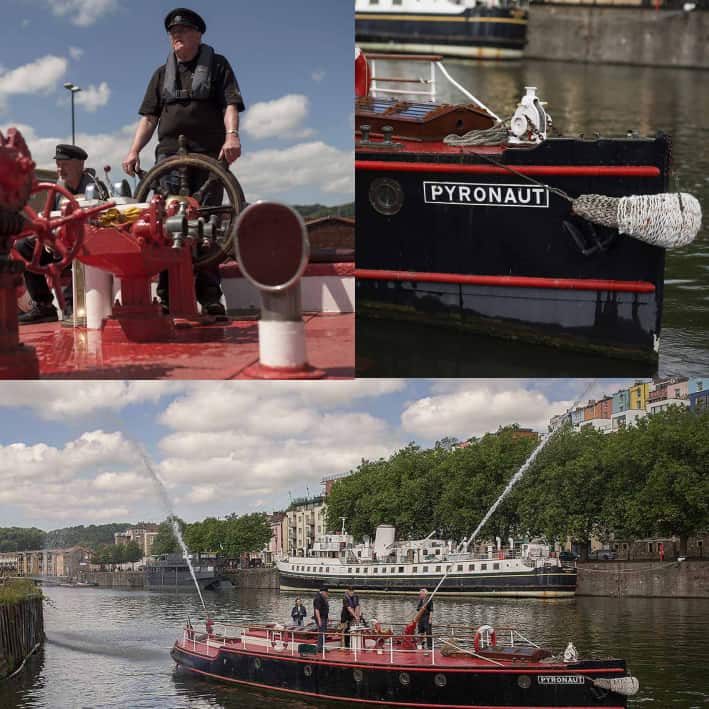 Ships
In 1934 the Pyronaut, a floating fire engine, launched from the Albion Dockyard, to begin service fighting fires in buildings and on ships around Bristol's waterways. Her low profile allows her to get under all the bridges in the city.
Ships
Forth Hope was built as a Gosport ferry – but the order was cancelled. When she left Albion Dockyard in 2016, the Vine Trust equipped her as a floating health centre with pharmacy, laboratory and consultation rooms. After a 6,800 mile Atlantic crossing she now works supporting communities in Peru.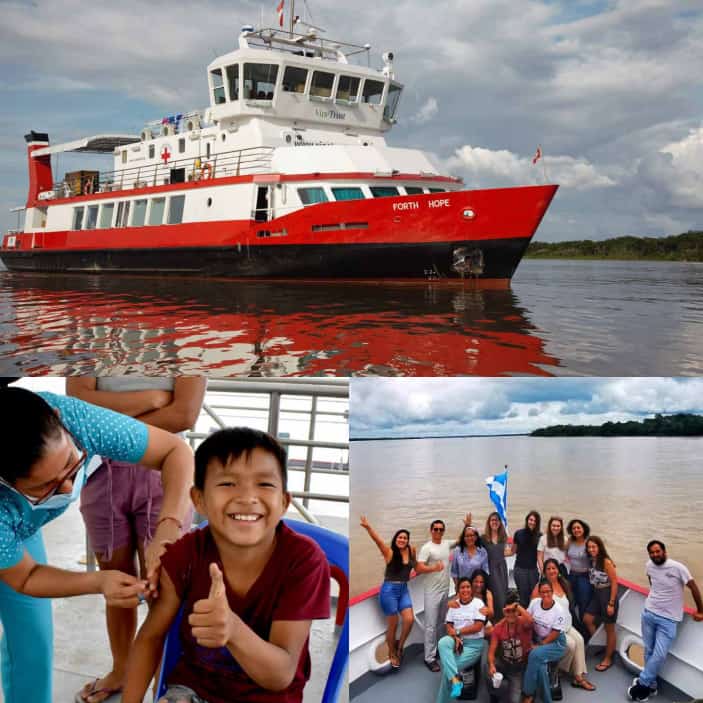 People
Since 1820 thousands of people have worked in the Albion Dockyard. The ships they built connected the country with the world in peacetime and helped to defend it in wartime. This place is part of their family history.
People
"95% of everything we import to this country comes in by sea. We need to keep the skills to maintain our ships. We need to train young people to take the opportunities in this sector."
Adrian Ragbourne, Seas Your Future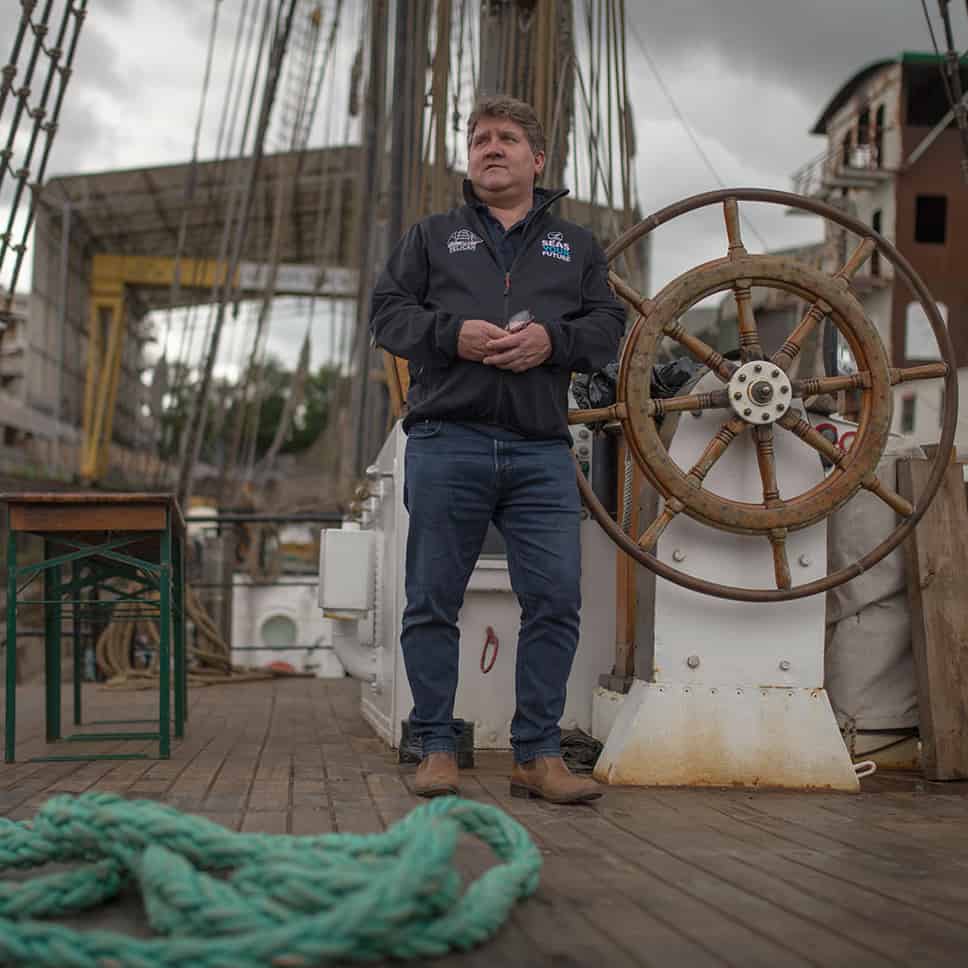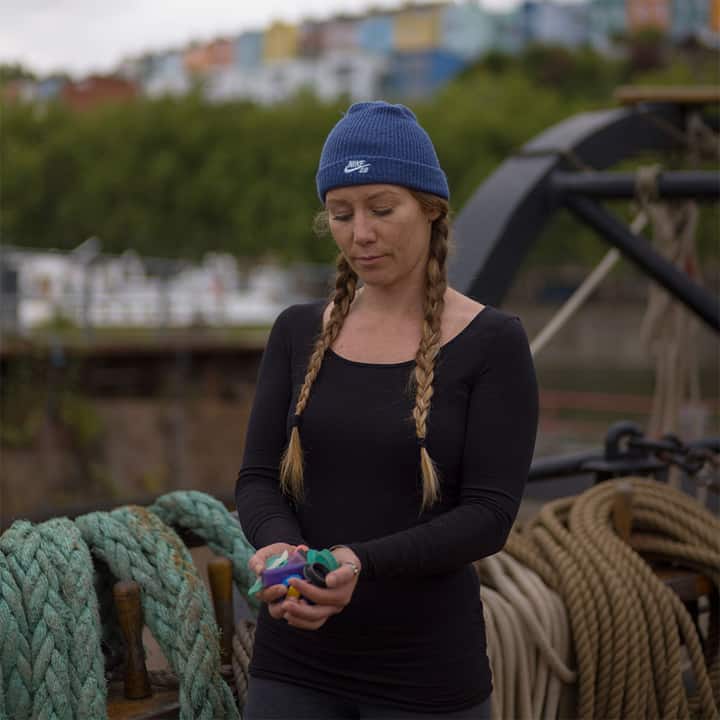 People
"Following repairs to the Pelican in Albion Dry Dock, we sailed around the UK with a team of young scientists supporting our marine litter survey. We didn't find a single beach that wasn't polluted with plastic."
Stephanie Lavelle, Sea Sanctuaries Trust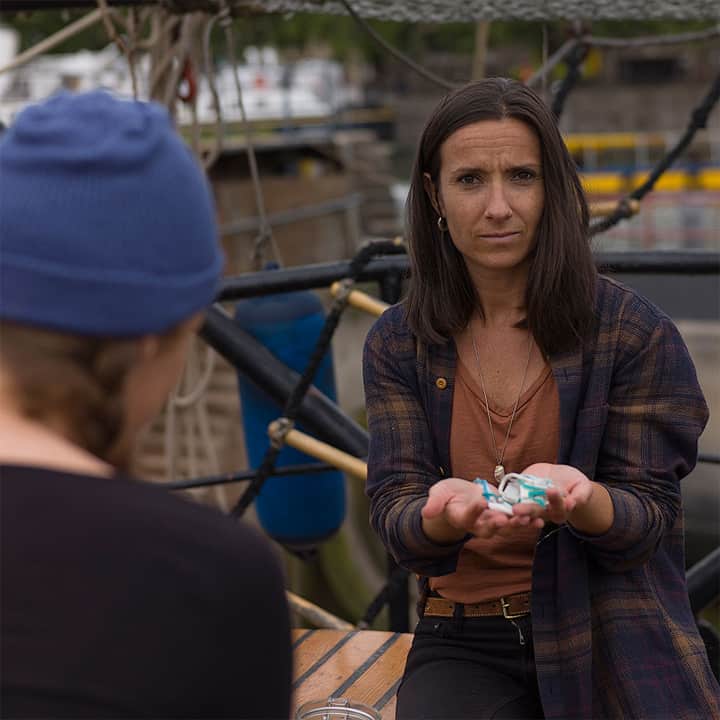 People
"You can see the scale of the problem – this is just some of the plastic we collected. It's connected to the fisheries industry or single-use items that break up in the ocean. This makes them harder to collect, and puts marine life at risk. We urgently need to connect our actions with our oceans and take action to prevent plastic pollution."
Jo Morley, City to Sea
People
"I started as an apprentice here, and my dad (inset) worked here too as a Boilermaker welder. There's still a few master tradesmen, real masters. But the skills are dying out."
Chris Lynch, Technical Manager, Albion Dock Company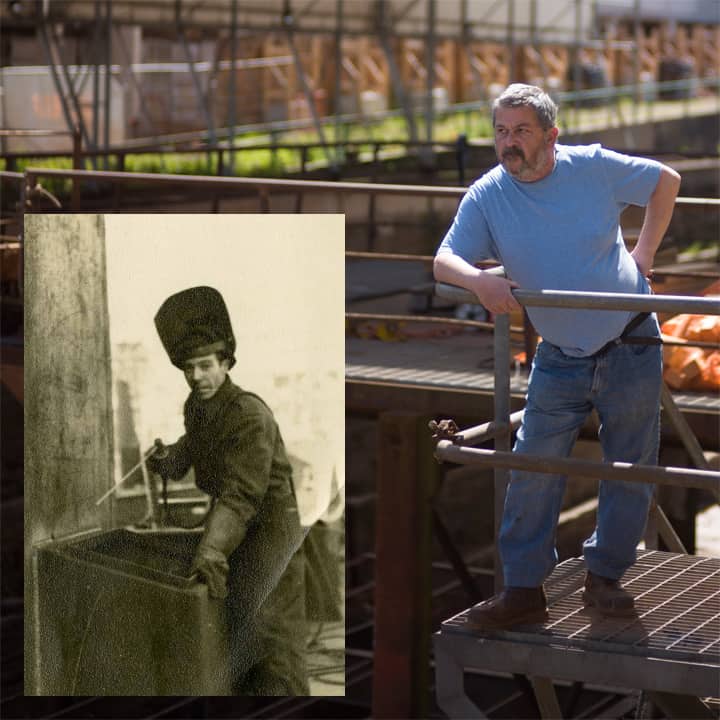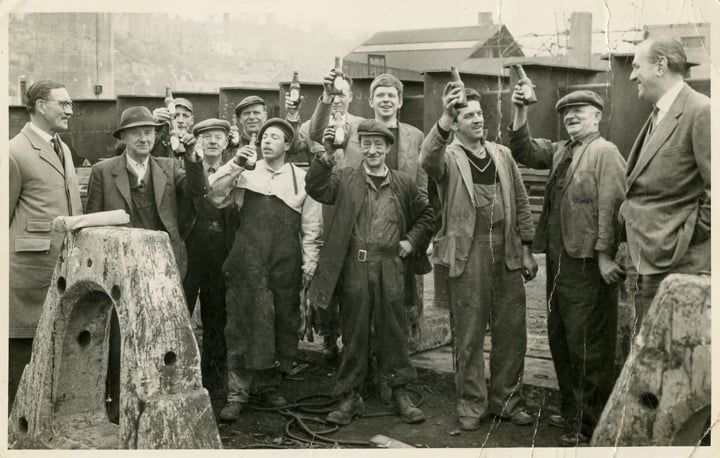 People
Dock workers celebrating under the watchful eye of their managers. The special occasion was probably the launch of a ship – possibly the Juno in 1949.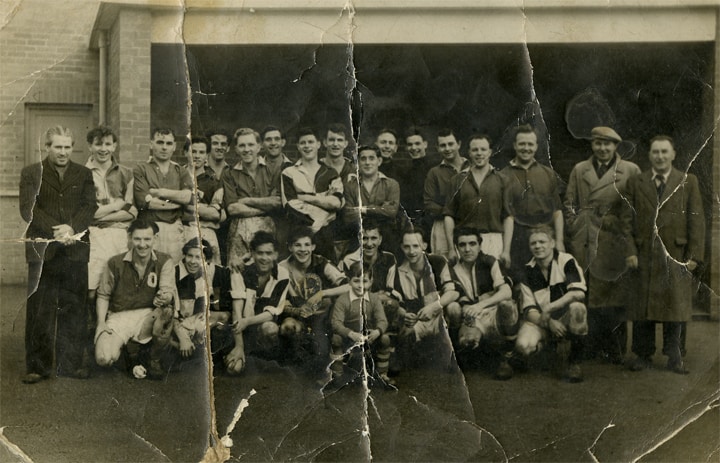 People
This photo shows the two football teams drawn from the dock workers to play a match: married men versus unmarried!
Ship repair and shipbuilding restarted in Bristol's historic Albion Dry Dock in 2018 through a partnership between the SS Great Britain Trust and Bristol City Council.
The Albion Dockyard has an exciting future as a heritage, nature conservation, education and community space, with support from National Lottery Heritage Fund.