My role at the Trust is about building relationships with communities in Bristol and working to make our site more accessible. This job sees me meeting new people every day, discovering their stories and helping to improve what we do at the SS Great Britain Trust.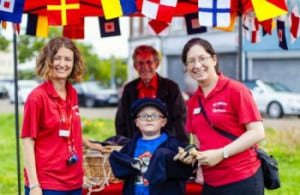 Here are three highlights from an exciting year in our work:
As part of our Communities Programme last year, we worked in three areas of the city: Hartcliffe, Southmead and Lawrence Hill. We ran a range of activities, from launching rockets in Hartcliffe, to making Victorian toys in Junction 3 Library, to walking the routes of the ship on a giant world map at Southmead Festival.
The community work in these areas culminated with a series of Welcome Weekends, where families from these areas could visit for free.
To promote the events, flyers were distributed through local libraries, primary schools, children's centres and community groups. Over the three weekends, we had more than 1,100 people visit, many of them for the first time. The feedback from attendees was very positive:
"3 adults and 4 children aged 1-9 and we all loved it: the restoration is incredible and the layout and all the exhibits kept us interested and entertained for the whole visit."

"Didn't realise how much there was to see… It's brilliant, lots to see and do, plus interactive displays for children."

"Haven't visited since primary school. Thought it wasn't something I would have liked to see… Amazing. Definitely more interesting than I thought. I loved how close up you can get to things."
Building on the success of this programme, we will be running Welcome Weekends again in the autumn.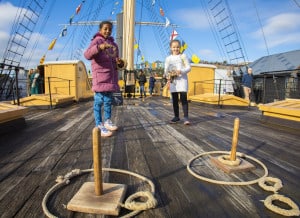 Community Learning Partnership
Another way we have been building relationships in communities is through our partnership with Bristol Community Learning, an organisation that works with adults who have few or no qualifications. After working together to organise several visits for relevant courses, we identified an opportunity to host a fun and rewarding practical learning course right here at Brunel's SS Great Britain.
Inside a workshop usually used to produce props and displays for the visitor attraction, we ran an 'Introduction to Woodwork' pilot course. The course lasted nine weeks, and over this time, learners developed their skills and built wooden crates to help decorate the dockyard. During the course, learners found out more about Brunel's SS Great Britain and received a guided tour of the ship. They also learnt about our volunteer programme and the different roles we offer. Here's what one of the learners on the course had to say about their experience:
"I saw the poster for this course at the job centre and it caught my eye because I love boats… I'm enjoying learning new skills and my dream job would be to become a boat builder. I find the SS Great Britain exceptionally interesting and… I am keen to help out when the course finishes."
One of the learners on this course has gone on to become a Communities Volunteer with us at the Trust, and we're looking forward to helping others build their skills this February when we begin our new community learning course.
IMAGE 
Poetry on Board
We have also explored creative approaches to engaging communities in the story of the ship. One successful partnership in this area last year was with talent development agency Boat Poets and Afrika Eye Festival, Bristol's annual celebration of film and arts which aims to bring diverse perspectives on Africa and the diaspora.
During Afrika Eye Festival, we hosted writer and performance poet Saili Katebe (The Blissful Nomad) for a week-long residency, culminating in an evening featuring spoken word and a dance performance.
IMAGE
During the residency, we worked with Saili to run two poetry workshops with a youth group and a refugee English language learning group from Lawrence Hill. The refugee group wrote a blog about their experience, sharing the poem Saili helped the group to create.
You can watch Saili performing his poem 'After '70', written as part of his residency, below: