Funded by the Arts and Humanities Research Council (AHRC), The Exchange project supports local people to train as researchers and explore museum collections. 
In November 2021, parents from Hannah More School and members of the Bridging Gaps Community Group, Shani Whyte, Iwona Salamon, and Soumia Seradj, became the SS Great Britain Trust's first Community Research team. 
The group worked with the museum collection and archive, joining the SS Great Britain team to uncover the ship's global history. The project sparked vital conversations around the misconceptions about the SS Great Britain, unravelling false narratives, discovering untold stories and creating new ways to explore and share history. 
Iwona produced a learning box for schools, based on food the passengers would have to live on for two months at sea. Speaking about her experience, Iwona said: 
"The Exchange project gave me a confidence boost, I never thought I'd have access to a unique historical collection and be a part of a research team. I wish there were more projects like Exchange as they make history and museums accessible and give collections a human face."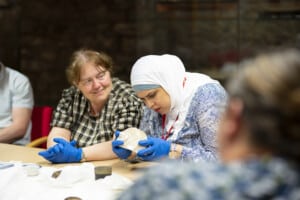 Shani, Iwona, and Soumia each brought a fresh perspective to the role Brunel's pioneering ocean liner played in history, exploring the ship's involvement in migration and the story of the British empire.  
Soumia, who has written a booklet explaining the background of the ship for people who do not have English as a first language, loved how the project brought together people from different communities: 
"This project helped me to tick one off my to do list, as I'd always wanted to learn more about different histories and share it with the community.  
I want to influence people from my community and make them say to themselves if Soumia could do it, then we can. I want them to push the boundaries even more, it doesn't matter if they know what they are doing or not, by digging they will find out information." 
As the participants did not have a background in historical research, they were able to approach the archives from a different angle, broadening people's understanding of the ship's stories. The project also has built new connections, strengthening the relationships between the Trust and local communities.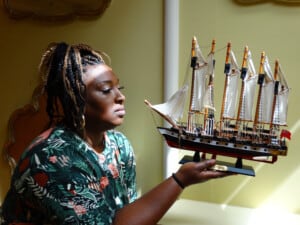 Bridging gaps between local opinions and the ship's real legacy, Shani Whyte's book, Tying The Tides – The Colour Within the SS Great Britain, highlights people of colour who either travelled or worked on the ship. 
Shani said she is proud that her book highlights untold black history and sparks important conversations:
"It's nice to see positive history about black people and not the same narrative we always see like slavery and the civil rights movement." 
A fantastic new free outdoor exhibition in Brunel Square explores the community researchers' journeys and discoveries.  
After a successful first year working together, the team of researchers plans to continue the project and to turn their focus to sharing their findings with the wider community, encouraging them to look deeper into their local history, while also inspiring other schools to offer similar opportunities for their parents.