The Six-Masted 'Schooner'
The SS Great Britain was the World's First ever Hybrid Ship and Six-Masted 'Schooner'.
Isambard Kingdom Brunel, Thomas Guppy and Captain Claxton worked together to design the ship's original 1843 rig and sail plan. Together they pioneered a unique modification of the traditional 'schooner' rig – a series of fore-and-aft sails set along the line of the keel – and masterminded a six-masted rig, building a ship which could most effectively steam and sail at the same time.
Now part of the iconic Bristol Harbour skyline, the SS Great Britain topmasts are often the first view of Brunel's masterpiece and a powerful reminder of his impact as one of Britain's greatest engineers.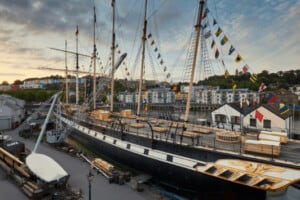 The vital conservation work required for Topmast No.2 
Topmast No 2. is the largest of the SS Great Britain's six masts. At over 18 metres in length, it is also the most complex and costly to replace. Crucially, it carries the topsail yard, as well as being positioned directly above the mainyard, which is used for the Go Aloft! mast and yard climbing experience.  
Each mast consists of a lower mast which supports a topmast above it. Originally these were of timber construction but in 2007 the Trust carried out essential maintenance and replaced the lower masts in steel, with the topmasts made of new solid timber. 
An inspection in 2017 revealed that topmasts 1, 4, 5 and 6 needed replacing after reaching the end of their expected service lives. After rigorous research into the best options and with generous support from the Trust's members and supporters, these topmasts were replaced with specially designed, engineered timber hollow masts from Noble Masts, a local company based in Bristol. The new topmasts crucially have an expected service life of over thirty years. 
The remaining two solid timber topmasts have been continually monitored since 2017, and the most recent condition report has confirmed that Topmast No. 2 now needs to be replaced. 
How you can help 
The Trust would be thrilled for you to consider supporting this important appeal and helping us to reach the target of £15,000 towards the overall costs of £65,000 for the replacement topmast. Anything you raise in addition to the target will always contribute directly towards the associated costs of replacement and ensure that the SS Great Britain is ready to 'set sail' again in spring 2023. 
Together we will maintain the safety and authentic appearance of the ship, conserving her for the future and keeping the astonishing story of the SS Great Britain alive for generations to come.  
Thank you for considering helping to preserve such a special part of our Nation's heritage.